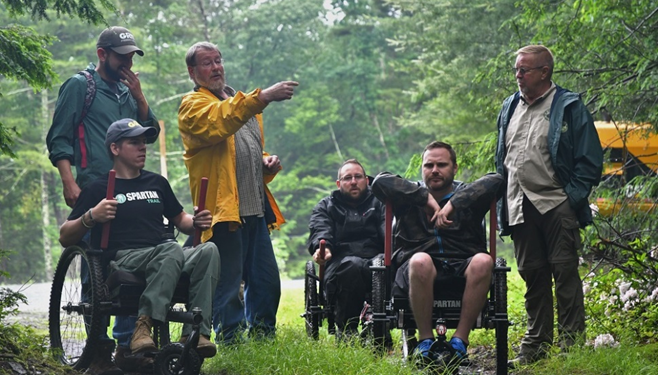 Northeast Off-Road Adventures was founded in 2010 and offers 4WD & Overland training, driving tours, team outings, and adventure programs serving commercial, government, and private sector clients. Venues include a private 75-acre mountain top facility in Ellenville, NY and Hunter Mountain Ski Resort.
NORA's SOAR program was conceived in 2018 and made its debut last August. SOAR helps guests and groups with mobility disabilities enjoy adaptive outdoor recreation. With certified instructors and professional guides, guests are provided with a highly structured learning experience with a focus on safety. NORA firmly believes that everyone can benefit from enjoying nature and outdoor activities. With the SOAR program, people with mobility disabilities including but not limited to paraplegic, quadriplegic, brain injury, spinal cord injury, cerebral palsy, and multiple sclerosis are granted to opportunity to recreate together in a woodland setting.
While NORA has received inquiries about the program from various groups, the price has been difficult for them to overcome. The cost of running the program is $500 per wheelchair guest including up to two able-bodied guests to attend with them. The DOF Cares grant allows them to secure funding and award groups the SOAR experience at little or no cost.