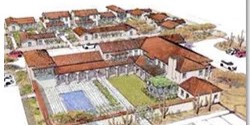 Luna Azul is the creative housing solution conceived by Mark Roth to address the need not only of his daughter with autism, but so many other families looking for a safe, affordable and accessible place to live.  Luna Azul  is located on approximately five acres in northwest Phoenix and is planned to include 15 two bedroom and 15 three bedroom homes. Each will have a front porch and be built facing a community courtyard, and will feature quality styling, full kitchens, baths, and unique safety and design features. Amenities in this gated community will include a 3,000 sf clubhouse featuring interior offices, an exercise area, meeting room, theater, and a kitchen with group dining area. Other amenities include a community garden and landscaping with water features, landscaping, exercise and recreational facilities, an outdoor pool and ample parking.  The project will develop a "pocket neighborhood" of 30 total units in four different plan types depicted in the unit mix above. Plans A & B will be 1,053 sf and 1,260 sf respectively and offer 2 bedrooms and 2.5 bathrooms. Plans C & D will be 1,580 sf and 1,680 sf and offer 3 bedrooms and 2.5 bathrooms. All units will offer their own traditional living and kitchen areas and separately controlled utilities. Units will have their own covered parking spaces, but no garages. Eight units will be detached, while the remaining 22 units will be attached in two-unit buildings.
DOF is the lead lender in what will ultimately be a $12,000,000+ construction project.  Luna Azul has been previewed in local Arizona publications: 
Click here to view the article.