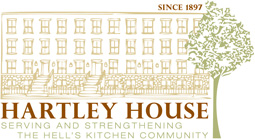 In 2021, DOF provided a $750,000 loan to Clinton Housing Development Company, Inc. ("CHDC") to cover predevelopment costs associated with Hartley House and 454 West 35th Street, two properties undergoing redevelopment that will result in 93 units of supportive housing in New York City's Hell's Kitchen neighborhood.
CHDC is a nonprofit developer that has served the Hell's Kitchen/Clinton and Chelsea neighborhoods on the west side of Manhattan since 1973. CHDC's mission is to build community by preserving and creating high-quality, permanently affordable housing for low-income residents. The organization was founded in response to speculative demolitions in Hell's Kitchen neighborhood beginning in 1971, followed by protracted disinvestment in the community beginning in 1975. CHDC responded by managing and redeveloping 400 units of city-owned properties. In 1992, the organization expanded its service area to Chelsea, and in 1993 it began responding to the city's homelessness crisis by developing supportive housing for people with mental illness, the elderly, and individuals with HIV/AIDS.
CHDC currently serves 766 households in apartments and co-ops managed or owned by the organization. Since its founding, CHDC has developed 431 affordable rental, 332 co-op, and 268 supportive units totaling over $200 million in public and private investments, along with developing 55 commercial spaces. Additionally, CHDC has assisted in the development of 300 units of low- and moderate-income cooperatives housing and 300 units of rental housing. In recent years, CHDC's commercial development has focused on integrating community, cultural, and green spaces in larger community initiatives, including its Middle West Side (MWS) Community Planning and Cultivate HK programs. Through these programs CHDC provides technical assistance, urban planning, public engagement, and development consulting to housing, arts, retail, recreational, and green space projects.
As an owner-developer, CHDC has experience in the entire development process, including securing capital subsidies, coordinating with service providers, and performing asset and property management functions. CHDC currently has 1,248 units across its portfolio of 27 projects, with individual unit counts for projects ranging from eight to 176 units.