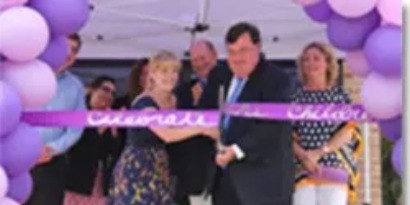 DOF Helps New Jersey School Transition To New Campus!
DOF provided over $1,250,000 of financing to Celebrate the Children (CTC), which provides k-12 education to approximately 110 development disabled students in Northern New Jersey. Funds were used to finance renovations and site work at a recently purchased school site allowing CTC to realize its goal of combining two separate leased facilities into one campus that offers room to increase the number of children attending its schools and to expand other program offerings. The new location also is more convenient to major roadways and closer to denser population centers, which should support utilization of the added capacity.
Organizational Background

CTC offers educational programs to children and young adults on the Autism Spectrum, who have Multisystem Development Disorder, Regulatory Disorder, ODD, OCD, ADHD, Down Syndrome, expressive language delay or mild physical disabilities. Students and program participants range in age from 3 to 21 years old, with the core of its work focused on the 110 students it serves in its state approved Kindergarten to Grade 12 educational programs. CTC began first in 1998 as a small program providing intervention services and growing into a full-service school setting by 2004. The organization continues to be led by the two co-founders Monica Osgood, who runs the pre-k and elementary school programs and Lauren Blaszak, who runs the high school and young-adult education programs. Prior to founding CTC, Ms. Osgood & Ms. Blaszak worked as behavioral consultants to public school districts in New Jersey & New York.
Primarily serving public schools systems, its educational content and school finances are regulated by the New Jersey Department of Education. Regulation of tuition ensures, overtime, that CTC's tuition covers its cost of providing services with a built in profit to cover capital investments and other costs. CTC also has limited privately placed students who pay tuition directly.
CTC's instructional philosophy is based on the Developmental, Individual-Difference, Relationship-Based (DIR) Approach, a developmental approach to intervention for children with special needs in partnership with their parents. Intervention is naturalistic, play-based, child-led and adult-facilitated. Pioneered in the 1980's by Profectum's Clinical Director Serena Wieder, PhD, and the late Stanley Greenspan, MD, the model emphasizes a child relationships. The approach is based on a belief that a child's development is dependent on a strong foundation of positive emotional interactions with caregivers, and that children with special needs often miss out on these experiences. The DIR approach supports parents and caregivers to reclaim this partnership promoting child development and emotional growth.
CTC also offers a range of other services including: language therapy, assistive technology for communication, community integration, work readiness, therapeutic horseback riding and swimming, and after school enrichment.