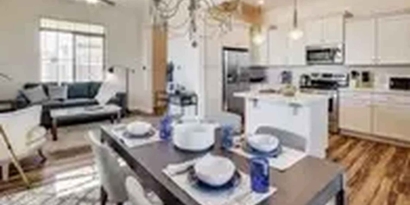 As the nation's first for-sale neighborhood created for people with disabilities, Luna Azul provides so much more than just a place to live. Located in Phoenix, Arizona, it is a gated yet freeing community for all adults. Luna Azul offers two- and three-bedrooms homes designed with modern appliances, open living spaces, a personal outdoor area, and stellar amenities.
Earlier this year, DOF purchased seven homes for resale with six homes still available for sale (one two-bedroom and five three-bedrooms). This gave Luna Azul the means to continue building the community the way they always dreamed. With Homeowner's Association (HOA) fees paid through December 2021 and no broker's fee, there are many advantages when choosing to buy your new home at Luna Azul directly from DOF.
To read more and see photos of the homes, see here.
If you're interested in making the next step to buying a home, please contact Charlie Hammerman – DOF's President and CEO at chammerman@thedof.org. He is dedicated to finding you the perfect home.